VLOCT is an alien that was revealed by Ken Tennyson in the episode
Ben 10,000 Again
. His appearance was never revealed and it is unknown whether Ben will gain access to him in
BTUAM
or it's sequel series.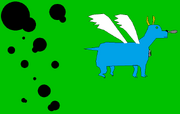 He appears in
Jake 13
as one of Jake's original 13 aliens and as one of his favorites.
VLOCT's main power is speed. He has super speed and is faster than an evolved Sonarosian. He also has super strength, flight and a tail that he can use as a blade. VLOCT can also walk upright or on all fours.
Weaknesses
Edit
VLOCT's only weakness is that he has extreme anger management.
Appearance
Edit
VLOCT looks like a dragon and dog combo. He is blue with two yellow horn and two white wings.
Appearances
Edit
He was mentioned in Ben 10k Again.He was first used offscreen in the first episode of Jake 13 and made his onscreen debut in The Big Race.
Ad blocker interference detected!
Wikia is a free-to-use site that makes money from advertising. We have a modified experience for viewers using ad blockers

Wikia is not accessible if you've made further modifications. Remove the custom ad blocker rule(s) and the page will load as expected.