ET

HAS LANDED!
This item belongs to the user Evolved To'kustar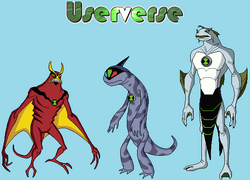 Userverse is a series by ET. It was going to be published on dA as an eBook. Now it will be posted here.
Villains
After fighting a war with Vilgax, Ben and his
Ultimatrix
are destroyed, creating a wormhole that sucks the users into the Ben 10 Universe. The users must then fight and defeat Vilgax.
Fan List
Write your name down if you are a fan.
Most users are asking why this is being published on dA instead of here; the place where most Ben 10 Fan Fictions are published. DA REASON:
I am writing this as a real book, taking it step-by-step so that it is actually good (well, to me at least) and I don't want it being sold. If I wanted it sold I would go out, find an agent and have it published and sold myself.
Ad blocker interference detected!
Wikia is a free-to-use site that makes money from advertising. We have a modified experience for viewers using ad blockers

Wikia is not accessible if you've made further modifications. Remove the custom ad blocker rule(s) and the page will load as expected.