Surprise Alien is an unknown alien to appear in Ben 10: MEGA Alien.
Appearance
Edit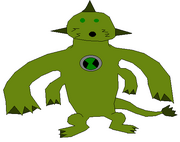 Surprise Alien is a reptile alien, looking like a combination of a lizard and fish. He has four arms and a long tail.
Surprise Alien can swim super fast through water. He has super strength and technokinesis.
Weaknesses
Edit
Surprise Alien is super weak to electricity.
Appearances
Edit
At the end of Escape Plans Azmuth intentionally "accidentally" unlocks Surprise Alien as an apology for leaving a glitch on the MEGATRIX II. He debuts in Trial Run when he disarms two bombs.