MEGATRIX II

It was a rushed job...

Type:

Device; Technology.

Predecessor:

Successor:

UNKNOWN
The MEGATRIX II is the successor of the
MEGATRIX
. It is used in
Ben 10: Ultimate Alien MEGATRIX
and
Ben 10: MEGA Alien
.
Appearance
Edit
There are two options of how the MEGATRIX II appears; either as a square badge placed anywhere on Ben's body or as a gauntlet (looking identical to the
Ultimatrix
) but with a square faceplate.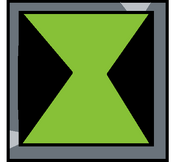 The three known powers of the MEGATRIX II are; Power Enhancement, Species Creation (locked) and Evolution. The evolutionary function can be to evolve an alien to it's Ultimate form or MEGA Form. It can evolve aliens from their original forms or their Ultimate forms. (E.g. Spidermonkey - MEGA Spidermonkey or Ultimate Spidermonkey - MEGA Spidermonkey)
Appearances
Edit
The MEGATRIX II makes it's debut in Colourless, Part 2 when Azmuth sees things going downhill and brings Ben the new watch. It is then used various times in it's sequel series, Ben 10: MEGA Alien.
Known MEGA Aliens
Edit
Transformation Sequences
Edit
Ad blocker interference detected!
Wikia is a free-to-use site that makes money from advertising. We have a modified experience for viewers using ad blockers

Wikia is not accessible if you've made further modifications. Remove the custom ad blocker rule(s) and the page will load as expected.