Deep Crusher is an alien in Jake 13 & BTUAM. He is one of Jake's original aliens. His species are Grimensio (Gri-ment-sho)
Appearance
Edit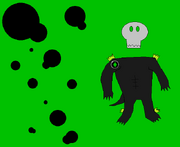 Deep Crusher looks like a giant monster with a floating skull head. He has the Rognitrix on his right shoulder and four green fins located over his body as well as a tail and very well defined abs.
Deep Crusher has many different powerful powers. One of his main assets is his height, he is extremely tall and has extreme super strength. He also has a frightening roar and can breath underwater. If Deep Crusher's head is knocked away from his body, it can fly around under his control until it reconnects with it's body, it can also shoot laser eye beams but only when the two are separated. In Merry Jakemas it is revealed that Deep Crusher's skull functions as a small cavern that people can ride in and that they can look through his eyes like windows.
Weaknesses
Edit
Sometimes he is too big for things and too loud. Also, if his head moves too far away from his body, his body can die and he will remain just a floating head.
Deep Crusher was a prototype for an unnamed (main alien transformation) in the BTUAM season 3 finale
Ad blocker interference detected!
Wikia is a free-to-use site that makes money from advertising. We have a modified experience for viewers using ad blockers

Wikia is not accessible if you've made further modifications. Remove the custom ad blocker rule(s) and the page will load as expected.