Dan is a character from
ABC 10
. He is part of the 1st group of quintuplets, and wields the D-Trix.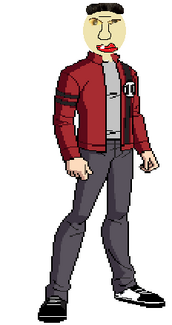 Personality
Edit
As one of the 5 oldest Hoebaker children, he is expected to be mature. But, like Omi, UH, and Brian, he is very childish and silly.
Cats
Red
Jello
Dragons
Magical Swords
Ad blocker interference detected!
Wikia is a free-to-use site that makes money from advertising. We have a modified experience for viewers using ad blockers

Wikia is not accessible if you've made further modifications. Remove the custom ad blocker rule(s) and the page will load as expected.