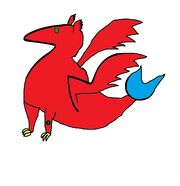 Aqua Dragon is an alien in
Jake 13
&
BTUAM
. He is one of Jake's original 13 aliens.
Appearance
Edit
Aqua Dragon appears to be a large red dragon with muscular arms and no back legs, but they are replaced my a long tail. He has a long face with two ears that are shaped like miniature wings and he has a pair of wings on his back. His Rognitrix (Jake 13) symbol is on his left arm.
Aqua Dragon has hydrokinesis and pyrokinesis. He can also fly and has super strength and can breath under water.
Appearances
Edit
Aqua Dragon debuts in The Underwater World when Jake and Robbie want to visit an underwater tribe.
Ad blocker interference detected!
Wikia is a free-to-use site that makes money from advertising. We have a modified experience for viewers using ad blockers

Wikia is not accessible if you've made further modifications. Remove the custom ad blocker rule(s) and the page will load as expected.